FBC Wright City exists to glorify God through Sharing Christ, Equipping Believers and Changing Lives
Vision Statement:
We dream of being THE church in Wright City that is FOR Wright City. We will be an intentional multi-generational church that is the best church for families. We are united and passionate about being a refuge for our community as we Share Christ, Equip Believers and Change lives.
At FBC Wright City we hold 7 Core Values:
A Passion for God's Word

Family

Worship

Giving

Evangelism

Service

Prayer
What We Believe
Excerpts are from the current 2000 Baptist Faith and Message. First Baptist Church of Wright City is affiliated with the Southern Baptist Convention, The Missouri Baptist Convention and the Twin Rivers Baptist Association.
Meet Our Staff
Jayson Hoagland
Senior Pastor
Jayson Hoagland is a native of Robinson, Illinois.  For the past 6 years, he served as pastor of Sinking Creek Baptist Church in Johnson City, Tennessee.  For 13 years prior to that time, he served at 2 different churches in Myrtle Beach, South Carolina. Jayson holds a Master of Divinity degree at the Billy Graham School of Missions, Evangelism and Church Growth at Southern Seminary in Louisville, Kentucky.  He is also a 1997 graduate of Missouri Baptist University in St. Louis, MO.  After graduation from college, Jayson traveled the country for several years in over 100 five-day crusades as a crusade manager with John Jacobs and The Power Team while living In Dallas, Texas.  He has also traveled with Mike Hagen Strength Team Ministries and Team Impact Ministries.  Jayson and his wife, Jennifer, have 6 children.
Brian Clark, Richard Cornett, Ron Helvey, Roy Scott
Board of Deacons
Brian Clark             Richard Cornett          Ron Helvey                  Roy Scott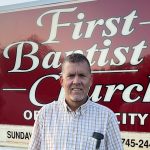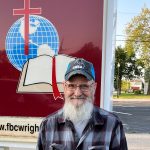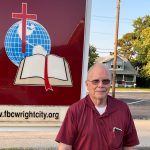 Guy Grimstead
Music Director
Guy received a degree in Music Theory and Composition from Bethany Bible College in 1992 and has been leading worship for 30 years. He's been married to Mande for 15 years and God has blessed them with three lively boys: Boaz, Ezra and Ezekiel. Currently he is employed full time at Child Evangelism Fellowship in Warrenton as a Music Specialist; writing custom music for their evangelistic videos focused on children all over the world. He is also an Alderman in his home town of Troy, Missouri. In his spare time he enjoys working with his hands in the backyard and playing music with his family.
Brian Clark
Sr. High Youth Director
Brian has served a youth leader for many years.  Has wonderful repour with Teen Age youth.  The Sunday School class meets at 9:00am and is currently  studding the book of Revelation.
Kaitlin Anders
Children Ministry Director
Katie and her husband have three children of their own.  They are active in several community children programs, including home schooling and cub scouts.  It is an honor to have Katie on our church staff